CheapLPC Programmer V2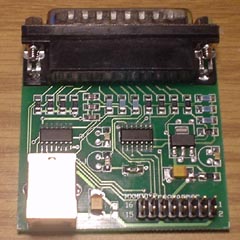 Cost: $23 USD (Including USB Power) - Out of Stock

The new version is compatible with All parallel ports, and can be used with an extension cable. No more messing around with the LPT port settings. As an added bonus I have included the USB power at no extra cost.

How to make an adapter from Socket to LPC (For SST49LF020 chips) view here.

Software: here



News
- 9/15/2004 - Cheapmods are in stock. $10/each
- 8/1/2004 - No more Programmers until I have enough orders to make 10-15 units.
- 5/20/2004 - Official Xbox 1.6 Modchip - GreenMod
- 3/11/2004 - New V2 CheapLPC are in stock now
- GreenProg Software is released. Easier and friendlier to use than Wmilk and WinLPC.


Shipping and Handling:
Canada - $3.50 Standard Airmail
- $3 more for Registered AirMail Trackable and Insured
US - $4.25 Standard Airmail
US - $8.00 Express Post 4-5 Days Insured and Tracked
Intl - $5.00 Standard Airmail
- $5 more for Registered Airmail Trackable and Insured


Also Available:
- Sockets
1 to 5 $1.75/each
6 to 10 $1.50/each
11+ Email for pricing.
- Male Header Pins 6x2
$1.25/each or $2 for 2
2+ Email for pricing. (Negotiable)
- Female Header Socket - $1.95/each (Negotiable)

Contact me at green@nicolas.cx for more information or to order.

For more XBOX products go here



CheapLPC Stripboard Here.
Update: Reduced Expensive Scotky Diode count by 2, uses 2 x2 gates of the 74HC14
Update: 74HC14 - No need to join pins, look at picture.
Update: Picture of the Stripboard Version.
Update: Using a thru-hole 74hc14, Less Bridge wires on Underside.